Italians love their food, this is  a well known fact and it's especially true for sicilians; that's why if you're planning a visit to Palermo you can not miss these markets where you will find the best street food in Sicily for cheap prices, a paradise for those who love good food. Visiting the markets of Palermo is an experience that will transport you into the past and into the most ancient traditions of this city; they are located in dismissed areas, along old and ruined buildings full of silent memories, they can be entered through ancient gates which once served as entrance to the city itself; it will be like crossing the line between past and present,  history and existence, walking through narrow streets dominated by an intense scent of the sea. The four most important and old markets of Palermo are: La Vucciria, Il Capo, Il Borgo Vecchio and the famous Ballarò, located in the heart of the city.
La Vucciria is a pleasant mixture of odours, voices and colours, a part of the city where time seems to stand still. It is the most popular market of Palermo and it's located in piazza Caracciolo and its surroundings, originally being a meat market, today you can find almost everything there (meat, fish, fruit, herbs, spices). Its name comes from a french word, Boucherie, which means butcher's shop, since there was a slaughterhouse in origin.
Il Capo is another important market of Palermo, located in a very popular area, it was built under the arab domination and was inhabited by the Schiavoni, pirates who participated in the slave trade. You will find this market along via Carini and Beati Paoli, via sant'Agostino and via Cappuccinelle.
Ballarò goes from piazza Casa Professa to the bastions of corso Tukory and Porta sant'Agata; it is the oldest market in Palermo, attracting hundreds of people from different nationalities every day. This market is located in a very traditional, densely populated and multicultural area. Sources claim that this market has existed since the tenth century and was built by arab merchants between the Ibn Siqlab mosque and the Quartiere Nuovo. The orignal arab name was Balhara, the alleged name of an indian prince; in fact merchants used to sell spices and other things which they had imported from that country. Today you can buy meat; fish; vegetables; fruits and many other things; this market is less frequented by tourists than the other ones.
Borgo Vecchio is located between piazza Sturzo and piazza Ucciardone and is the only market to remain open until late at night, attracting a moltitude of young people who choose it as a place to spend the evening.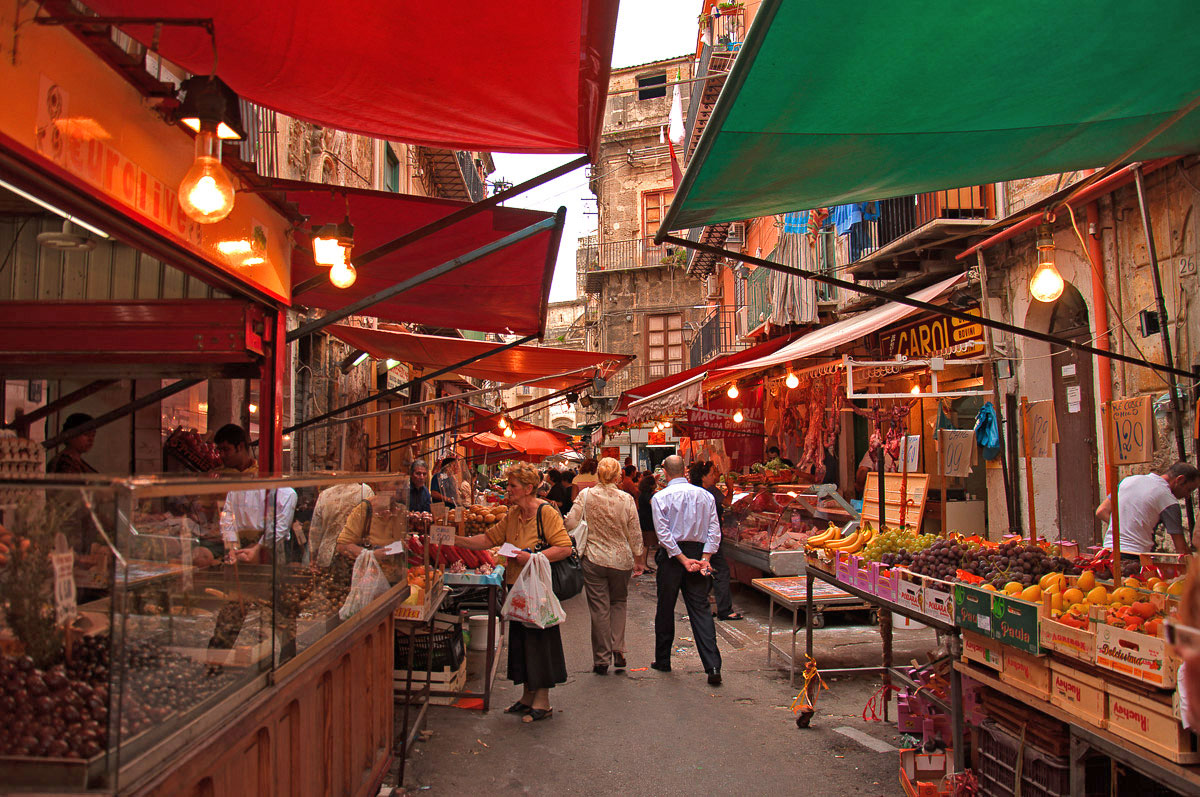 Social Share